Calibration Plate
The calibration plate is used to calibrate robot handlers and moving stages, correct distortion of inspections and lenses, etc., using images of the imaged plate.
In Shibuya Optics, we prepare 3 patterns with grid checker dots, and 3 types and various sizes.
Please contact with us for customized sizes and patterns.
(1) Type
White, Luster Type / White, Matt Type
Base material of Glass Calibration Plate is made of White, Nextrema
*
. It has a very low thermal expansion coefficient which is almost equivalent to synthetic silica. Precise pattern is printed on white glass, therefore its contrast seems sharper than the current transparent ones. "White, Luster type" polished the surface, "White, Matt type" is doing matt treatment.
* Heat-resistant crystallized glass manufactured by SCHOTT
(
Nextrema(R) Characteristic table
)
Transparent Type
Base material of Glass Calibration Plate is made of Fused Silica. 10 mm / 1000 division grid type, can be easily used as a Resolution Test Chart.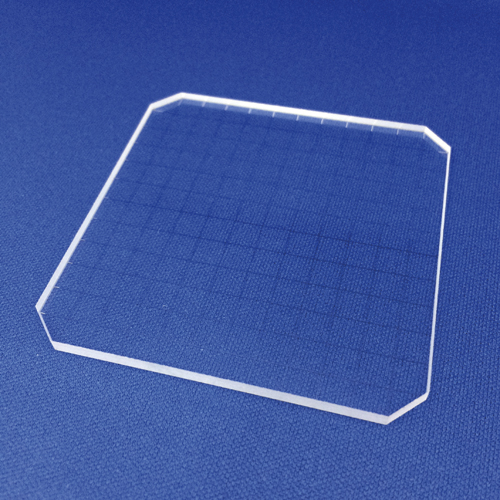 Transparent Type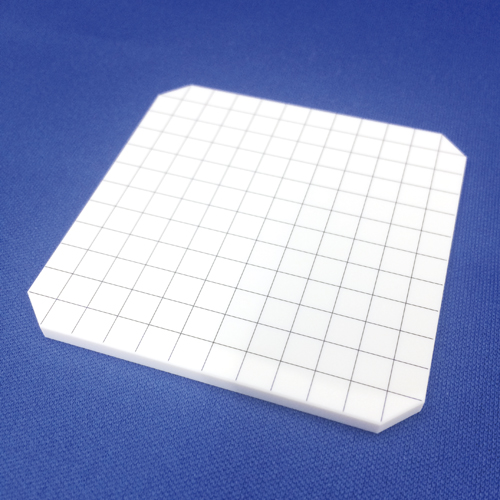 White Type
(2) Inspection Report and Traceability Certificate
The inspection certificate is measured by a partner company and issued by Shibuya Optical Co., Ltd. Measure the requested product at 10 random points per axis (23 ° C).
A copy of the calibration certificate and traceability system diagram of the measuring instrument used is attached. If you want to specify the measurement point in detail, we will quote it separately.
(3) Price List
Grid Pattern ( CBG Series )
Model number
Pitch
Material
Type
Size
List price
(excl. tax)
detailed
drawing
CBG01-150RL
5.0 mm
White, Nextrema
White, Luster
160 x 160 x 3 mm
100,000 yen
drawings
CBG01-150RM
5.0 mm
White, Nextrema
White, Matt
160 x 160 x 3 mm
100,000 yen
drawings
CBG01-150T
5.0 mm
Fused Silica
Transparent
160 x 160 x 3 mm
100,000 yen
drawings
CBG01-50RL
5.0 mm
White, Nextrema
White, Luster
60 x 60 x 3 mm
50,000 yen
drawings
CBG01-50RM
5.0 mm
White, Nextrema
White, Matt
60 x 60 x 3 mm
50,000 yen
drawings
CBG01-50T
5.0 mm
Fused Silica
Transparent
60 x 60 x 3 mm
50,000 yen
drawings
CBG02-10T
0.01 mm
Fused Silica
Transparent
20 x 20 x 1 mm
20,000 yen
drawings
CBG03-19T
0.5 mm
Fused Silica
Transparent
20 x 20 x 2 mm
20,000 yen
drawings
CBG04-20RL
0.25 mm
White, Nextrema
White, Luster
30 x 30 x 3 mm
50,000 yen
drawings
CBG05-148RL
1.0 mm
White, Nextrema
White, Luster
150 x 150 x 3 mm
100,000 yen
drawings
CBG05-148RM
1.0 mm
White, Nextrema
White, Matt
150 x 150 x 3 mm
100,000 yen
drawings
CBG05-148T
1.0 mm
Fused Silica
Transparent
150 x 150 x 3 mm
100,000 yen
drawings
CBG05-58RL
1.0 mm
White, Nextrema
White, Luster
60 x 60 x 3 mm
50,000 yen
drawings
CBG05-58RM
1.0 mm
White, Nextrema
White, Matt
60 x 60 x 3 mm
50,000 yen
drawings
CBG05-58T
1.0 mm
Fused Silica
Transparent
60 x 60 x 3 mm
50,000 yen
drawings
Checker Pattern ( CBC Series )
Model number
Pitch
Material
Type
Size
List price
(excl. tax)
detailed
drawing
CBC01-280RM
5.0 mm
White, Nextrema
White, Matt
60 x 60 x 3 mm
300,000 yen
drawings
CBC01-150RL
5.0 mm
White, Nextrema
White, Luster
160 x 160 x 3 mm
100,000 yen
drawings
CBC01-150RM
5.0 mm
White, Nextrema
White, Matt
160 x 160 x 3 mm
100,000 yen
drawings
CBC01-150T
5.0 mm
Fused Silica
Transparent
160 x 160 x 3 mm
100,000 yen
drawings
CBC01-50RL
5.0 mm
White, Nextrema
White, Luster
60 x 60 x 3 mm
50,000 yen
drawings
CBC01-50RM
5.0 mm
White, Nextrema
White, Matt
60 x 60 x 3 mm
50,000 yen
drawings
CBC01-50T
5.0 mm
Fused Silica
Transparent
60 x 60 x 3 mm
50,000 yen
drawings
CBC02-150RM
2.0 mm
White, Nextrema
White, Matt
160 x 160 x 3 mm
100,000 yen
drawings
CBC02-56RM
2.0 mm
White, Nextrema
White, Matt
60 x 60 x 3 mm
50,000 yen
drawings
CBC03-58RL
1.0 mm
White, Nextrema
White, Luster
60 x 60 x 3 mm
50,000 yen
drawings
CBC04-58RL
0.5 mm
White, Nextrema
White, Luster
60 x 60 x 3 mm
50,000 yen
drawings
Dot Pattern ( CBD Series )
Model number
Pitch
Material
Type
Size
List price
(excl. tax)
detailed
drawing
CBD01-150RL
5.0 mm
White, Nextrema
White, Luster
160 x 160 x 3 mm
100,000 yen
drawings
CBD01-150RM
5.0 mm
White, Nextrema
White, Matt
160 x 160 x 3 mm
100,000 yen
drawings
CBD01-150T
5.0 mm
Fused Silica
Transparent
160 x 160 x 3 mm
100,000 yen
drawings
CBD01-50RL
5.0 mm
White, Nextrema
White, Luster
60 x 60 x 3 mm
50,000 yen
drawings
CBD01-50RM
5.0 mm
White, Nextrema
White, Matt
60 x 60 x 3 mm
50,000 yen
drawings
CBD01-50T
5.0 mm
Fused Silica
Transparent
60 x 60 x 3 mm
50,000 yen
drawings
CBD02-5RL
0.2 mm
White, Nextrema
White, Luster
20 x 20 x 1 mm
30,000 yen
drawings
CBD02-5T
0.2 mm
Fused Silica
Transparent
20 x 20 x 1 mm
30,000 yen
drawings
CBD03-320RM
10.0 mm
White, Nextrema
White, Matt
335 x 335 x 3 mm
300,000 yen
drawings